World championship in firefighting (2. part)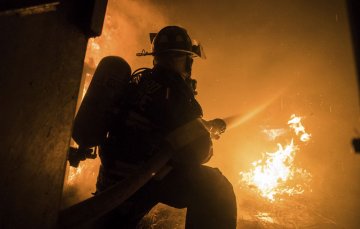 In Part 1 of our article, you could read the first files of our beginning. Why are we confessing all this to you? So you know it's ok to feel broken, hurt and to fail time and time again. Life goes on, it's just reality. Actually, life goes on only if we fail at things. As the saying goes, 'Failure teaches success.' We aren't robots and we're about as close to perfection as a sausage is close to a healthy diet. We're human and what's human is beautiful. By which I don't mean we are beautiful although I'm not ruling it out either. What's important is we decided to make a change at something we care about and we're willing to put the work in. Honestly, each of us in his own way – one by having a dream and the other by making the decision to help his best friend turn this dream into reality. We're learning more than we ever thought we would but it's a lot of fun. If we had started off thinking it would be easy we would have given up about 5 minutes after starting. But that's not how we roll, not here at Salibandy.
Let's move on – we also experienced setbacks while trying to turn our castles in the air into an actual industrially manufactured product. For instance, some tried to convince us it would be cool to make use of the so called planned obsolescence to make sure customers would buy our ball repeatedly. Sure, to cheat clients before we even start selling sounds like a great idea. If you want to shut down the firm before it even gets its CRN that is. So we had to keep searching. During our desperate attempts to make an idea into a product we destroyed just about everything within our reach - from things and relationships to freedom of movement and our own hopes that we're smart guys.
At least we were patient and so the work on our plan continued. At present, for each sold Saliball there have been one and a half attempts at creating it. That gives a pretty high number. We're also aware the number on Saliball's price tag is pretty high – truth be told we originally planned for the price to be half as much – until we found out the manufacturing cost. So we moved a little further. The ball was ready and so were we – the release of the ball was planned for May 2021 at the latest. Planned. Man plans, God laughs – well, not so much God but the man that took half the money for building a website upfront and lead us on for three months, only to eventually stop taking our phone calls. Bet he badmouthed us too. Wee rascal. We recently came across his vacation photos – glad we could contribute. Anyway, at that point it was clear we were screwed like the proverbial pooch. The deadline was impossible to keep and we had to start over. Nice to have.
With the self-imposed pressure on us of wanting to open for business in May and knowing how tragicomic it is to get ripped off before it all even starts. A small consolation was that we now knew to be more careful with who we trust. Ehm, well. Luckily, on our second try we met a brilliant person who understood our situation and helped us build the whole website including the e-shop in record time. During this period we managed to waste lots of time taking unusable photos because we had no idea how to create a good composition. At least it was fun. We were making videos and learning marketing tricks only to learn that we'd rather hire professionals than continue IKEA-style, i.e. manuals are for losers. This lesson came at a price but as long as the price is only money, all is fine.
We were also searching for a packaging for the balls, as if we didn't have enough on our plate already. Here we also managed to try about 20 versions with no success and contact several firms, some of which weren't even willing to respond. Well, shit happens. Our joyride continued and we often had to reach into our own pockets to compensate for our series of little mistakes. While the balls were being developed, prices of inputs were rising. Even more bothersome was when we went to Finland for the World Floorball Championship to attend some business meetings, half of which got cancelled and the other half moved to a later date when we couldn't stay in Finland anymore.
Thank God for everyone we did manage to meet up with – all three of these meetings were perfect and we're excited for what was started there. Again we were leaving with a tonne or two of lessons learned, new points of view and inspiration which would have been hard to come by elsewhere. It's quite a paradox that, save for a visit to the embassy, two of the meetings could have just as well been done in CZ. But this is life and it was a great experience.
But the worst part was yet to come - our return home and the launch of our second product, which caused the whole e-shop to shut down, i.e. get blocked. Dear friends, what a pre-Christmas time that was - there wasn't a day when something didn't go wrong. We believe that we managed to dance through it all like Baryshnikov through the Swan Lake and that you didn't notice anything major. Because what we care about is first and foremost the satisfaction of the whole Salifamily.
So our screwed up plans are a secondary issue, because our priorities are clear. We also managed to fail at our first attempt at entering the SWE, FIN and SUI markets, because we didn't quite understand those markets which lead us to choose the wrong marketing strategy. Our loved ones got just socks for Christmas that year, since we spent all our money on bad marketing :)) This is what happens when you're too focused in one direction, and not willing to move your head to look around.
Luckily we're fast learners - we take these lessons to heart, we do what has to be done, buckle down and do the work. We'll never claim to be the most talented players on the field, but we can promise you that we'll be the most hard-working ones around, because that's something we have in our own hands. We want to make a change, so we try to do that, we set an example and refuse to settle for things which won't bring us the desired effect. We work at it until we achieve it. We're undoubtedly gonna make many more mistakes but that also means our journey together will be pretty long. We're excited for it. And you can be excited for our next fail.